There are an infinite number of opinions on the topic of must-haves for this season, so here's my top five to add to the mix:
1.) Color: Make sure your fall wardrobe has at least one brightly-colored piece. It's a perfect antidote to dreary days. Like this great orange corduroy skirt from
Gap
for $49.50: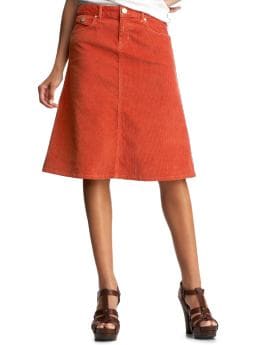 2.) Shawl cardigan sweater: What I want you to notice about this sweater from
Target
(available for a mere $17.99), is the draping in the front. This style is very big right now, so it's available in all sorts of colors, weights and lengths. It's an incredibly versatile layering piece that's fabulous on its own, or belted.
Gap also has several styles and colors available including this adorable one in tan. This same cardigan is also available in a deep orange for those of you more interested in bold colors. At $59.50, it's a bit pricey, but it's also a cashmere blend, so it just might be worth it.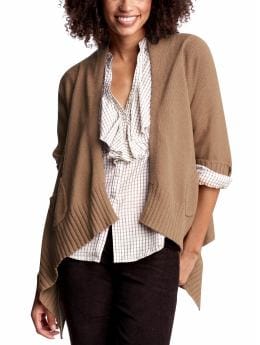 3.) Tights. Lots and lots of tights. Opaque tights are a fabulous item to keep in your wardrobe because they are the perfect accessory to help you transition your more light-weight summer dresses, walking shorts and skirts into fall and winter. A bright color tight is always fun, but not always appropriate, so make sure to have at least a few pair of neutrals like black and chocolate brown. These are all from
American Apparel
and are available in every color in the rainbow and then some! Ranging from $14 to $22 they're a little pricey, but you'd be hard pressed to find colors this vibrant and trendy for much less.
Wondering how to put together an outfit with summer clothes? Here's an example: Take this shirt dress from Target. You wore it to the office all summer.
Now, add some chocolate brown opaque tights and the tan cashmere shawl cardigan from Gap, pictured above. See? It's easy!
4.) Leather. Whether it's a fitted bomber jacket, a wide-waisted belt, an edge-y vest or even a fitted pencil skirt, leather will make your wardrobe look rich and luxurious. We can't all afford a lot of high-end leather pieces, but there are a lot of faux leather options out there, too.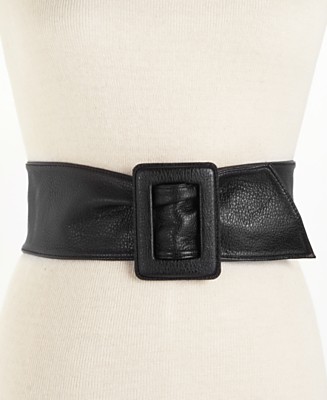 5.) Wedge boots: I love wedges because they give you all the benefits of heels but without the discomfort and instability. On snowy, slippery sidewalks and parking lots, high heeled boots can be hazardous, but wedges are at once chic and stable. These from
Endless
are a steal at $71.47:


And there you have it: my top five for fall.