Hats are such a fun accessory to have in your wardrobe. They can finish off an outfit in a stylish way, PLUS they're really practical in any season. In the fall and winter they can keep you warm and they shade your face from the sun all year long. Stop thinking of hats as your solution to a bad hair day and start thinking of hats as the route to a good style day. First, a couple of hats to try: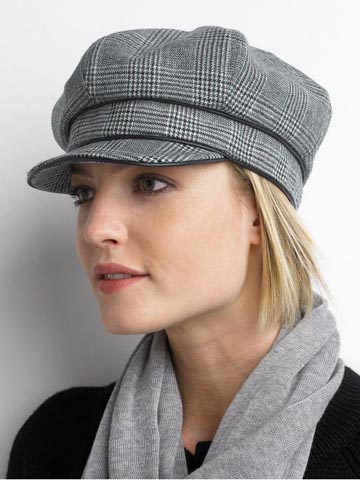 These hats are ADORABLE!!! Almost anyone can pull one off. And they come in an endless array of fabric and colors (which is part of the reason why just about anyone can pull them off). The one pictured here is houndstooth, but they're also available in leather, cotton, corduroy, knit, crochet, wool, canvas, linen, denim, velvet, tweed, fleece, suede, chenille, herringbone, houndstooth, vinyl, satin, sequin, striped, polka-dotted, plaid, floral, glittered, patchwork, metallic, checkered, neon, pastel, etc. Need I go on? There are an infinite number of variations you can find with the fabric, print, color, volume, brim size, etc. First, find the shape and brim that work best for your face, and then stock up on a variety. When topping off an outfit, make sure your hat goes with your outfit, but does not match your outfit. In other words, if you're wearing a brown tweed blazer, top it off with say... a leather cap. Contrast between cap and outfit is a good thing. Similar caps include the Ivy cap, and the painter's cap (also known as a jeep style army cap).
Fedoras can be much harder to pull off than newsboy caps. For starters, finding the right fedora can be a lot more difficult even though the options are generally far fewer than that of the newsboy cap. Women and men alike should stick with a narrow brim, or risk looking like Al Capone or Indiana Jones. A fedora can dress up a pair of jeans in a snap, so give it a whirl! Straw fedoras are best in the summer while wool or felt works better in the cooler months. Women can get away with a contrasting fedora more easily than a guy can, especially if it's wool or felt. In the case for most men, keep the fedora in line with the color of your outfit. If it's mostly black, then wear a black fedora, but don't feel too constricted- any shade of grey will also look nice. If you wear mostly brown, then the same rule applies- any shade of brown to go with your clothing. Not match. Go. For women, it's a good idea to cock the hat to one side and men and women should mold the brim to frame your face in the most flattering way.
A beret can be difficult to pull off, especially for men. In fact, unless you're the type of guy who likes to feel like a French poet or a part of some militia, I'd say you should avoid berets all together. Women are allotted more freedom, and there are more options for women as well. Wool, felt, knit and crochet, to name a few. In addition, a beret can have a youthful effect on an older woman and a maturing effect on a youngster. It also suggests a bit of whimsy and lightheartedness. As for how to wear it, some like to cock the beret off to one side like in the picture, or wear it set back on the back of your head. NEVER wear it straight on the top/center of your head- that's just silly! And make sure it's not too floppy or you'll look like you're on your way to the Renaissance Faire. I love a wool beret in the winter as a ski-cap alternative and loosely crocheted berets are chic in the spring and fall and add a touch of visual interest to just about any outfit.
HATS TO AVOID:
Visors and ball caps:
Unless you are on an athletic field or in the stands watching a game, please avoid both visors and ball caps. For men, a ballcap is perfectly fine for a casual outing like a cookout, but ladies trust me when I tell you it is doing you NO favors. You're better off with a newsboy or painter's cap if you're doing something active, or a wide-brim straw hat if you need coverage.
Cowboy hats:
Are you at the rodeo? Running a cattle drive to the ranch? Driving a tractor? On stage with Garth Brooks? If the answer is no, then please don't wear a cowboy hat.
Wide brim:
It's one thing if you're on the beach in a classy wide-brim straw hat and Jackie O. sunglasses. It's another if it's embellished or rolled brim. The former will make you look like
Mayim Bialik
a.k.a. "Blossom" and the latter will make you look like
Debbie Gibson
. Not Deborah. Debbie.
Here is an acceptable wide brim hat:
Keep in mind that the size of this hat will not work for everyone while others can have one with a brim inches wider than this and still pull it off. As a general rule of thumb, the brim shouldn't extend too far beyond your shoulders unless you're attending the Kentucky Derby.

In closing, if you're uncomfortable in a hat, you're not going to look good in it because you don't feel good. You may have to try on a hundred hats before you find the one that works for you. Don't let that deter you- try them on anyway. Once you have a hat you love, you'll realize it was all worth it.